What is RSS?
RSS stands for 'Really Simple Syndication'. It is a form of web publishing that allows you to subscribe to an XML formatted "feed" containing the content you want. Subscribing is as easy as clicking on a link and bookmarking. You don't have to submit your name, email address or any other personal information. Once subscribed, all of the content related to that topic will be delivered directly to your newsreader when it changes. It will update regularly when new news arrives without you constantly re-checking the site. It takes the hassle out of staying up-to-date.
How do I start using bookassist RSS?
First you need an RSS newsreader, though some modern browsers such as FireFox and Safari have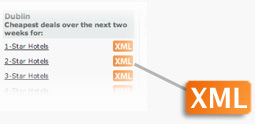 functionality built in.
Then jump to any of our RSS feed destination pages as listed above and click on the orange XML icon shown here on the right for any category of information you want to subscribe to.
Listed below are some popular newsreaders that you can download for free. An alternative to downloading a dedicated newsreader is to use a Web-based newsreader. For example, My Yahoo! users can add RSS feeds directly to their personal page, as can Google users.