Hotels in Scotland
Book hotels in Scotland, Top hotel deals in most Scottish towns and cities, from Inverness to Dundee and Edinburgh or in the beautiful Scottish countryside.
At Bookassist we offer you special discounted rates set by the hotel. If your looking for a top internet hotel deal then why shop around? We work directly with all of the hotels you see here. The price you see is the price the hotel has set.
Select your destination, select your dates and we'll find available rooms for you at the best rate.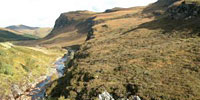 Visit the Scottish Highlands, famous the world over as an area of great natural beauty. Magnificent, wooded mountains surround hidden valleys and dark, deep lochs.
This sparsely populated country is a great location to partake in outdoor activities such as cycling and mountaineering. Or simply use your time there to appreciate the incredible scenery, unique local peoples, historical treasures and varied wildlife.