The West - Galway & Mayo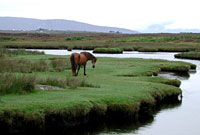 Find hotels or guesthouses in Galway and Mayo, two of Ireland's most beautiful counties.
Galway City, often referred to as the Cultural Capital of Ireland, is a great place to spend a weekend. The city is home to many fine pubs and restaurants, and has an active nightlife throughout the year. Galway City is an excellent base from which to approach Connemara to the west or take a boat from the bay to the Aran Islands.
Just northwards, Mayo is often overlooked by tourists visiting the west. Those who know it appreciate the area for its rugged landscape and beautiful coastlines. The lively coastal town of Westport is an excellent place from which to explore Achill Island or climb Croagh Patrick, a mountain famous for its important yearly pilgrimages.
Hotel Specials
Mayo
Galway