Hotels in Cork and Kerry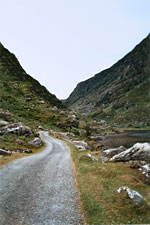 The Southwest of Ireland undoubtedly contains much of the country's most spectacular scenery. In Kerry, visit the breathtaking Dingle Penninsula, famous for Dingle town and the Blasket Islands. Killarney is another popular destination, well-known for the fine eating and traditional pubs of the town as well as the timeless, untouched beauty of Killarney National Park, one of the oldest and most picturesque parks in the country. Further west, find accommodation in the quieter town of Kenmare, popular stop-off point on the Ring of Kerry.
Cork, Ireland's largest county, is a massively varied place to visit, worthy of a holiday's exploration in itself. Cork city is the second largest city in Ireland with a lively and friendly atmosphere and much to do and see. Cobh is a beautiful seaport and harbour town and attracts visitors from all over the world for its sailing and maritime history. One the other side of the county, the area of West Cork holds some of the most spectacular and rugged coastline in the country well as rural villages, remote islands, and warm, welcoming local people.
Hotel Specials
Kerry
Cork