Hotel accommodation in the Czech Republic
From the beautiful Prague Castle to the scenic Wenceslas Square, the city of Prague brings you timeless beauty.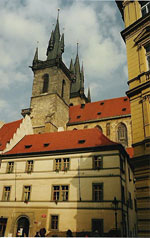 Hotels, apartments and accommodation throughout Prague from this page. To book and reserve your accommodation simply use our handy dates and location finder on the left.
After you have reserved your hotel you will receive an immediate hotel booking confirmation from the site to confirm your hotel reservation. We have plenty of hotel accommodation near central Prague with many situated in Prague's Old Town or the scenic Wenceslas Square. You will also enjoy the most competitive prices on this site with special hotel discounts and hotel booking deals. Whether you are looking to stay in a luxury four or five star hotel or an economical discount one or two star property you are sure to find it on bookassist Prague.
Prague Hotel Offers and Discounts