Hotels & Accommodation discounts in Tierra del Fuego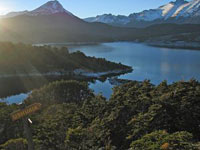 Planning to visit Tierra del Fuego? Find accommodation in Ushuaia, the world's southernmost city. This scenic town, nestled between the Martial Mountains and the Beagle Channel, is the largest in Tierra del Fuego. From here you can charter boats to Cape Horn, or observe local wildlife on the small islands of the archipelago.
Eighteen kilometers west of Ushuaia is the Tierra del Fuego National Park, a wonderful hiking location featuring forests, waterfalls, mountains and glaciers.
Hotel Specials