Hotels & Accommodation discounts in Chubut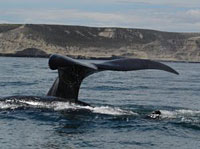 Planning to visit Chubut? Choose a place to stay in Puerto Madryn, a friendly city from which you can plan excursions to major wildlife sanctuaries at the Península Valdes and the Isla de los Pájaros. These sanctuaries are host to a variety of impressive fauna including sea lions, elephant seals (a unique continental colonization), Magellanic penguins and Right whales.
The city is also famous for its diving and snorkling due to calm, transparent waters and varied marine life. It has long been held as the Argentine capital of scuba diving.
The Whale Season runs from June 15 through to December 15, during which whales and dolphins can be observed at many of the sanctuaries and beaches in the area.
Puerto Madryn is located roughly 1450km south of Buenos Aires and is accessible by road and airport.
Hotel Specials